Well, the Once Upon a Read-a-Thon is over and I didn't do as well as I hoped. It has been a chaotic week, but I consider it a good sign that I did finish a book during the read-a-thon.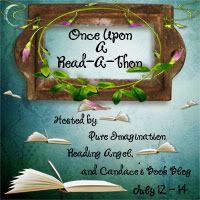 Below are the books I worked on during the read-a-thon and my current status.
Books:
I am 51% through
Claire de Lune
.
Audio Book:
I finished
Sisters Red
. Admittedly, I ended up picking up the print copy to finish it since I didn't spend that much time in my car listening to it. Review is forthcoming.
So that is how I did. Not great, but considering it has been a busy week, I will take what I can get. So how did you do?