It is finally here! The Once Upon a Read-a-Thon has officially started and will last through July 14th!
Now I work full time, and don't have a lot of time to read, but I am still going to participate. If nothing else, this will hopefully motivate me to read, since I didn't pick up a single book this weekend. If you are interested in signing up for the read-a-thon, you can sign up at
Pure Imagination Read-A-Thon Signup
so you can keep up with everyone's updates! You can also follow on Twitter with the #readathon tag.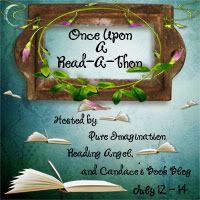 Below are the titles I plan on focusing on during the read-a-thon.
Books:
Audio Book:
Graphic Novel:
Yes, I realize that the last one is a graphic novel, and I don't often read graphic novels. It is on a list that I am required to read, and maybe this will help me get through it! You may notice that all of these are on my currently reading goodread.com shelf, and I have started all of them and are at various points in the text. I just need to start making some progress on some of these or drop them entirely.
Lips Touch
and
Knife of Never Letting Go
are both on my required reading list for my committee--so I really need to start working on those.
So those are my books. Are you joining in? If so, what are you reading? What do you think of my choices?