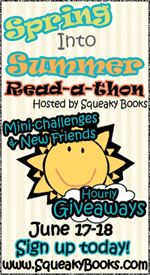 Click the image to learn more!
Today is the first day of the Spring into Summer Read-a-thon hosted by
Squeaky Books
. While I have to work until 5:45, I am going to squeeze in as much reading as I can today. I plan to listen to my audio book at lunch and I have books to read for work that I am adding to my pile. Tomorrow I plan to indulge in some serious reading.